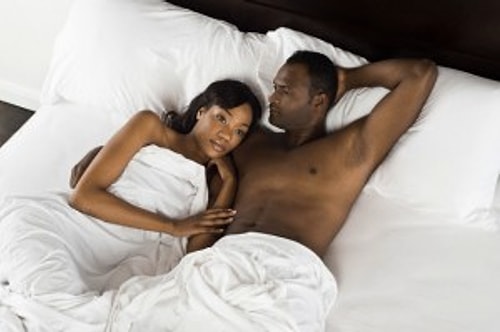 Se x seems to be one of the major reasons of misunderstanding between married couples in Nigeria and other countries as well.
In some homes, the man seems to want more than the wife, while in some, the woman is seen as a nymphomaniac. However, in some cases, the man suffers from weak ere ction and this, as research has proven, has made a lot of women go out in search of other men's services.
In a recent survey conducted by NAIJ.com, Nigerian men have revealed how long they can last in bed as well as the number of rounds they can go.
Some of them believe that having lengthy se x is not supposed to be seen as a priority, rather, satisfying their partners in the best possible way should be taken more seriously.
One of the respondents, however, believes that women need to be satisfied by their partners, hence the need constantly go more than a round.
Asked how many rounds he can go in bed, another man who spoke with us, said: "I can actually go four to five rounds, but not withe the woman I married as a wife."
He added: "At home, I satisfy my wife as much as she wants, but with those side chicks, one can go for as long as one desires, even without using any enhancer."
In his response to our question, one man who sells newspapers, said: "Se x is not food, therefore, going more than one round is seen as waste of energy and time on less important things."
Follow Us on Twitter!
Like Us on Facebook!
Do You Need a Sugar Mummy, Sugar Daddy, Girlfriend, Boyfriend Wife or Husband? If Yes, Then Click Here For Details